Most sake is sold and drunk very soon after it is produced but some, koshu, is aged. At this event Leigh Hudson from Sake Shop presented four koshu (and a mirin) from two producers. The five drinks (shown below from right to left) were: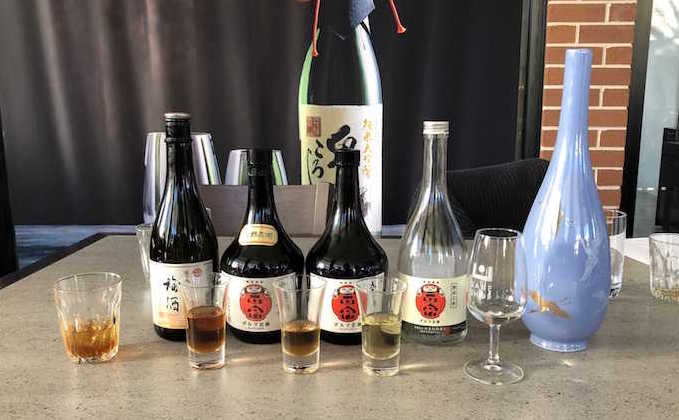 Senbazuru aged daiginjo
A light koshu made from daiginjo aged for 10 years. Pale yellow and thin. Sweet melon, juicy pear, and nashi aromas are quite pronounced. A little drier than I expected given the nose. The melon notes are present in the palate. Long finish with hints of honeydew melon.

As it warmed the melon aromas became more prominent, the mouthfeel thicker, and the finish longer. The palate had more ripe orchard fruits.
Daruma Masamune 3 year old koshu
Golden yellow, honey colour. Quite viscous. Honey and ripe apricot notes on first taste. Then savoury notes appear: dried ham and mushroom.
Daruma Masamune 5 year old koshu
Thick, clinging liquid with a rich honey colour.

Richer, more complex nose than the 3 year old with more savoury notes: rich dripping gravy or vegemite. But in the mouth I get notes of dark chocolate and coffee beans! Some acid notes and hints of smoke hiding in the back. Like eating chocolate coated coffee beans.

This is totally unlike the 3 year old and is, by far, my favourite of the drinks today.
Daruma Masamune 10 year old koshu
Very dark, brown mahogany colour. Develops the themes from the 5 year old: chocolate and coffee, touch of caramel sweetness. Like a fruity specialty coffee.
Fukuraijun ume mirin
Tastes like ume. Doesn't have the somewhat cloying sweetness I find in some umeshu. Nice, but not something I'd seek out.
I can't see myself buying anything like the aged daiginjo – it was so similar to an unaged daiginjo that I can't see past the extra $100+ – or the ume mirin, but I'll definitely be looking for more like the Daruma Masamune koshu. It can keep company with the bottle of the 5 year old that I bought!